Whew.
That
was some break.
But definitely well worth it. Imagine -- during my despicable one-month abandonment of this blog, I even garnered an award. A great, great weblog award. Heck, it's so great that I can't even write the words to properly exaggerate (or poetically understate) the honor bequeathed upon me. If you don't want to be stricken with sheer envy, then hit the "Next Blog" button on the Navbar above, or just smash your monitor with your keyboard and hear the sibilant
ssssssssss
that marks the death of your computer life (er, at least until you buy a new monitor).
But if you insist…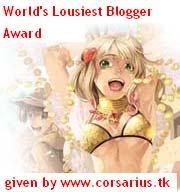 The joys of being a blogger! Thank you,
www.corsarius.tk
!
But of course, I'm not really the World's Lousiest Blogger. Hell, I can name at least one more guy out there in the blogosphere who hasn't updated his blog for a century!
And yes, if you had clicked on the link above, then you'd have been taken to none other than

this

very same blog. And yes again, that sexy-gurrrl image is nothing but a roughshod piece of art by yours truly, surreptitiously ripped from LevelUp! Games'
Ragnarok Online
and edited in MS Paint
(of all programs)
.
Which kind of tells you that my one-month absence has done more to unscrew a few nuts and bolts in my head rather than grant rest and peace of mind. Corsarius the Lunatic, anyone?
Actually, it's quite hard to type in a straightjacket.
*****
So, what the hell am I supposed to say now? "I live"?
No, my friends. I believe it should be, "I apologize."
I apologize to myself for having neglected my duties as a Citizen of Blog-Nation. I apologize to my blog for having seriously threatened the short life of
Slip of the Pen
, born December 2004. And most of all, I apologize to all of you, those who came back from time to time to catch up on my posts, only to leave inconvenienced and disappointed.
I am sincerely sorry.
I will make it up to you, guys. I will.
*****
So what happened?
Well, I had actually planned to leave this blog for only two weeks, which was the time when I was battered by final exams, project deadlines, paper submissions, and the like. All in a quest to, yes,
scratch

another

itch
. And believe me, I
did
scratch that one.
And so when the time came to unwind, I...unwound, what else. I immersed myself in the Playstation, WWE mania, Dungeons & Dragons, and basketball. Heck, that was some chilling out, because my writing hand really froze and my creative juice congealed. I forgot my poetry, my novels-in-progress, and most of all -- my blog. I just didn't want to have anything to do with writing for the moment. I wanted to
play
.
That moment lasted for another two weeks. Hence, the one whole month of absence.
But as they say, you can't keep a good thing down for so long. And so, here I am once again.
Presenting,
Slip of the Pen
Phase 3: The Resurgent Corsarius.
*For those of you who might be wondering, Phase 1 was The Bare Corsarius (yeah, the usual Minima Black template) and Phase 2 The Brooding Corsarius (red and black, baby).
*****
It's April 9.
Araw ng Kagitingan
.
And you know
what that means
.
In commemoration of this deified (reviled) day, I shall allow my face to be finally revealed to those who have not yet seen it.
Ready?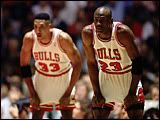 I'm the one on the right.
Yeah, I wish. I'm just freakin' glad to see the Chicago Bulls back in the playoff hunt. It pays to be a loyalist, I tell you. With the Jordan and Pippen Era long gone, they have managed to charge into the upper echelons once more.
Go Bulls!
*****
Ah well. Enough for now. Good day to you, my friends.
I'll be back. I promise.