Out with the angsty Corsarius, usher in the exuberant one.
WE DID IT!
Imagine this scenario: a newly-reinvigorated Filipino student organization based in UP Diliman's Computer Science Department, struggling to pool enough funds in order to hold its activities. It's just one of 750 international student chapters of the prestigious US-based Association for Computing Machinery, a Third World chapter at that. It joins the annual Chapter Excellence contest composed of five categories. With last year's winners all hailing from the USA, the Philippine chapter's members are just pleased to have done many things for the school and community, never mind the impending loss. And so a month of intensive evaluation within the ACM International HQ passes. The Filipinos are already looking forward to another productive year, again, never mind the impending loss.
But it wins. Not just one, but two categories. Two out of five. One Filipino chapter, three North American chapters. David and the Goliaths.
Implausible? Look at the image below.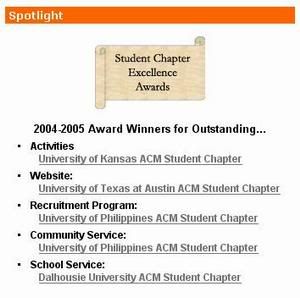 Well, the UP ACM proved otherwise. The UP ACM proved that

the Filipino can

.
We in the Executive Council of the UP ACM -- Association for Computing Machinery University of the Philippines Student Chapter -- was informed just hours ago of our triumph. I tell you, it was a moment of ecstasy. A totally unexpected moment, that is. Chapter members were shaking hands, making high fives, screaming (shrieking?), even becoming teary-eyed. Professors were congratulating us. All were smiling their lips into kingdom come.
I can't write into words the emotion -- amalgam of emotions? -- I feel right now.

Basta

. All I can say is that I am so proud to be a Filipino. I am so proud to be a UP student. Those sleepless nights filled with the furious sound of my fingers assaulting the keyboard have paid off. Having written the majority of the essays (winning essay 1 | winning essay 2) we submitted to the contest, I feel like I've won a Palanca or an Olympic gold medal. And I'm sure

all

of us are feeling that way.*
Congratulations to my fellow Executive Councilors (Chapter Chair Ardee Aram, Vice-Chair Mai Sibayan, Treasurer Jonas Roque, Externals Head Jeric Cantos, Education Head Ma'am Riza Batista, Ex-Officio Members Ma'am Joyce Avestro &

Kuya

Harvey Viray, Sponsor/Adviser Prof. Rommel Feria), UP ACM members (yes, all 90+ of you), and last but not the least Secretary Sophia Lucero (who shared my duress during the homestretch of the essay preparations). Certainly, a job well done -- kudos to you all!
Mabuhay ang Pilipinas! Mabuhay ang Unibersidad! Mabuhay ang UP ACM!



[

UPDATE

: UP ACM's victory has been published online in INQ7.net! For more updates (plus UP ACM's 'official' press release), please read my latest post in Crimson Crux.]


*And why shouldn't we? Bagging one category = 500 US Dollars. We got two categories. Now, that's some dough!