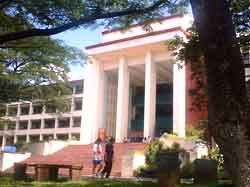 [

Eng'g

(pronounced "eng") is of course UP Diliman's College of Engineering. This old piece, meant to be published in the college paper but cut due to space constraints (and some say,

controversies

), is some sort of tribute to my college of three years running. Is the main character in the story yours truly? Partly yes, partly no. Non-Tagalog readers be advised: the dialogue is in my native tongue.]






10:17 AM



"Oi una na 'ko, may klase pa ako sa Eng'g," you tell your friends. The group's conversation breaks up as you start to descend the AS steps.

"Hey, wait lang! You naman o, basta na lang aalis," Ciara says in between puffs of her cigarette.

"Late na ako e," you say, scratching your head.

"Why, what's that ba, majors?" she asks. You nod in response.

"My gosh, i-cut mo na 'yan! It's more fun here than in Eng'g, no! Bulok dun, and you don't get to see girls like me there, di ba?" Ciara giggles, and your other high school buddies follow suit in enticing you to stay. You think it over for a while, but in the end you reach a decision.

"Sorry talaga...di ko 'to pwedeng i-cut. Alam niyo namang second take ko na, at ayokong ma-dehado ulit. Bawi na lang ako sa inyo sa susunod," you tell them with a sheepish grin on the face. Without waiting for their consent, you sprint down the stairs and bolt for the Beta Way.

Walking briskly towards Eng'g, your mind can't stop chewing over Ciara's words. She and the others have always had a biased view towards your college. How could they judge Eng'g without having experienced Eng'g life? You can't understand their love for the crowded corridors of Palma Hall, where unknown, hostile faces blend into a single nebulous mass. The building they fondly call 'A-S' isn't your home; there you're a mere a tourist in a distant land, out to make new acquaintances, out to plumb the mysteries of philosophy, history, geography, name it -– subjects which are mere child's play compared to what you're wrestling with everyday in Eng'g.

But now, walking across the Academic Oval, far removed from Palma Hall, you can make out the imposing figure of the home of UP's best minds -– your home. In paper it's called Melchor Hall, but to you and many others it is simply...

Eng'g

.



12:24 PM



You storm out of the classroom, spewing out curse after curse. "Punyeta namang test 'yan o," you hiss.

A girl at your side sniggers. "Magmumura-mura ka ngayon, e sino bang may kasalanan kung bakit ka bumagsak?" She frees a piece of crumpled paper from your clenched hand and un-crumples it. A

27%

encircled in bright, red ink stares out at you.

"Ayan, Eng'g Cup pa kasi inuuna," she softly says. "Aral muna sa susunod, ha? Saka na yang basketball."

You sigh as she hands back your creased test paper. "Opo, sige na po. Kung di lang kita bespren..."

"'Yan naman gusto ko sa 'yo eh...madali turuan. Uy, di pala kita masasamahang kumain ngayon. Pupunta pa ako ng tambayan. May ExteCom meeting e." She presses your hand and flashes a smile. "Sorry..."

"Okay lang no," you assure her. "Sige, kita na lang mamaya."

With that your bestfriend leaves and disappears amongst the throng of people flocking towards the stairs. Hunger threatening to make you keel over and die, you hunt the hallways for a

monay

vendor. You find one, and for ten pesos your mutinous tummy is calmed down. You can imagine Ciara telling you, 'Monay?! How cheap! Don't dare go out with me again!', but your wallet is a lean, worn-out thing and the sizzling tenderloin at the Eng'g Caf is something which you reserve for merry occasions, such as a 3.0 classcard in

any

ES subject. Besides,

monay

tastes fine. You don't need beluga caviar to make your day.

It is in this time of munching your 'cheap' meal that you walk around Eng'g. Unlike in Palma Hall, the corridors here are decked with familiar faces, smiling, winking, and sticking out their tongues at you. Friends, coursemates, even people whom you've just been classmates with for one semester –- all of them, you consider to be

family

. They're all around you, and their mere presence eases the pain of a flunked exam.



01:53 PM



You can see your classmate Marvin rushing towards you. He's shouting: "Yahoo! Tara na tsong, basketball tayo!"

"Ano? Basketball?"

Marvin nods giddily while befuddlement sweeps over you. "Ha? May class pa tayo. Wag mong sabihing mag-ka-cut ka?" you say in a reproving voice.

"Timang ka talaga. Wala si Sir ngayon, naka-post sa dep't na may sakit siya. O ano, sama ka na! Pang-practice na rin 'to sa Eng'g Cup. Andun na sina DJ sa Molave."

You shake your head and wonder why no week passes in Eng'g without any of your professors missing their classes. You're about to take Marvin's offer, seeing basketball as an ephemeral escape from acads, but suddenly the memory of your bestfriend's gentle scolding jolts you back to reality.

"Naku tol, pasensya na. Punta akong library sa baba, medyo kailangang kong mag-aral...pramis ko kay Bea 'yon e," you grudgingly admit.

"Bea? Ikaw ha, di pa nga 'kayo', e ander de saya ka na," Marvin jeers.

"Sira!" You punch him on the arm.



03:24 PM



Somehow you feel good that, for the first time this semester, you've managed to study in the Eng'g Lib for

at least

an hour. You proudly walk up the stairs and pass by your bestfriend's

tambayan

, merely wanting to boast that you had kept your promise. But Bea has other things in mind, and she drags you into a three-hour ride with her org. At first you have misgivings, but trepidation soon gives way to delight as you find out how fun it is to be in an org. Laughter, jammings, gossips and new persons to include in your Eng'g 'family' –- you're surprised at what you've been missing. You're already in third year and have steered clear of organizations, all because you're too lazy to undergo those hellish application processes. But now it seems your outlook is changing.

During a short lull in the

tambayan

, you whisper to Bea, "Huy, pwede pa bang mag-apply?" to which she gives you a quizzical look.

"Malamang oo! Teka, ano bang nakain mo't gusto mo na ngayong magka-org?" she asks.

"Wala. Monay lang naman."



06:30 PM



You stand beneath the waiting shed near Eng'g. Every UP-Philcoa jeepney you flag down is brimming with passengers. Bea and her orgmates are still in the

tambayan

; her dad's going to pick her up late. Ciara of your HS-buddies had texted you a message: "dearie, go hir nman s haws ko, d2 n lhat ng guys...club-hoppng l8r", and so you forced yourself to leave Melchor Hall.

But now, your eyes can't stop darting from Eng'g to the approaching jeepneys. Something just doesn't feel right.

Your thumb hovers over your cellphone's keypad. "Erase message?" the display asks. You press "OK". Ciara and her club-hopping escapade vanish into electronic nihility.

You walk back towards Eng'g. You walk back towards home.