Here's a couple of announcements from the Corsarius:

1) My personal website, The Corsarius, has moved to http://kimpo.fil.ph. The same goes for the online version of The UP Parser, which you can now find at http://upparser.fil.ph.

2) The multi-awarded Association for Computing Machinery - UP Student Chapter (UP ACM) is now open for membership. The application form can be found here.

3)
For those interested in the progress of our thesis

--

secure video streaming from a server to a mobile device, both real-time and non -- you can visit our group blog, The JSP.

4) Lastly, Slippy* now has its own WAP companion site! For more details, visit my other blog. Here's a few screenshots to sate your interest: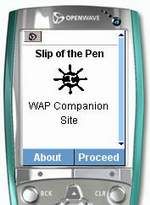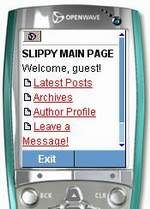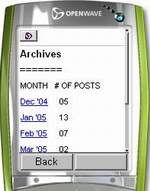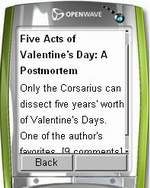 *My nickname for this blog, Slip of the Pen. Catchy, I think.