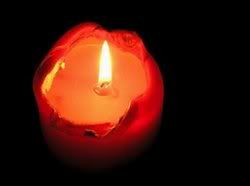 Sometimes, frenzy can erupt even when only the most feeble of inspirations guide you.
Comfort Reek


the stench
of the cinema restroom
is overpowering,
so I pull my shirt
over my nose
and inhale
the faint scent
of my perfumed
body.

8:56 PM
October 24, 2005



Bilateral Talks


he puts a premium
on communication,
a way to transcend
his and her limitations.

so one day,
his hand vised around hers,
stressed by uneven sidewalks,
scorched by the midday sun,
choked by the jeepneys' exhaust —

she tries to protest, but
he swipes her cellphone and
throws it down to the concrete.

he turns to her, saying:
"of course, the phone is smashed to pieces."
09:57 PM
November 28, 2005



Typo


i have been pressing on i for some time now
(thirty minutes, i think)
but i is still not responding.
i is proving to be an irritant, and i
am getting irritated.
i can't type, i can't see i onscreen,
i is nullified.
finally, i grab the keyboard with both hands,
hold it above my head, then
hurl it across the room.
one plastic piece shatters to a thousand,
i flies to the open chamberpot
and sinks to the pee-pool's bottom.
i versus i, i for an i —
like the whole keyboard,
i isn't indomitable
but i am.
09:59 PM
November 28, 2005